Cricbuzz - Live Cricket Scores & News
100
Take it with you
Following up on your favorite team may prove demanding. Especially if you're into fantasy sports. For those who think that sounded a bit kinky, I urge them to search the term and see that it checks out. More so, if you're a fan of fantasy cricket or just love obsessing about cricket in general then Cricbuzz might just be your fix. Who wouldn't love delving into cricket data on a couch, bed or wherever they feel comfortable holding a tablet.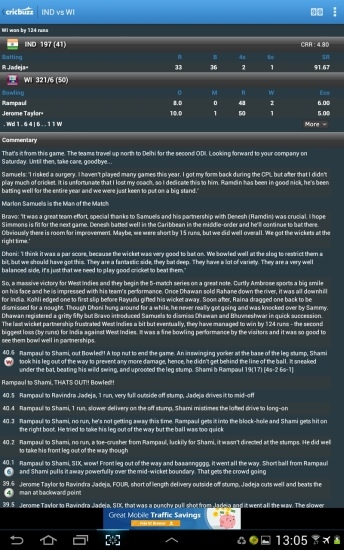 Data at your fingertips
When you first check out Cricbuzz you will be overwhelmed by the amount of data. However if you know what is what, then you'll have no problem integrating every bit of it. On the other hand if you have no idea about cricket then you would not care less about Cricbuzz.
The home screen presents itself in a non threatening way, by showing only a row of recent matches and a list of news articles. The news are updated daily and provide an interesting insight into the cricket world. The real deal shows up when you open the side panel.
The first section, called "Matches" lists upcoming and past games in a number of ways. However you decide to list matches, they will be presented in a similar fashion to the ones in the Home screen. Tapping on one will bring up details. You will have access to more or less depending on the status of the match. For example archived matches only show stub data, while recently concluded matches show a plethora of information and statistics. "Series Home" on the other hand offers even more integrated information by listing teams and detailed player information. Upcoming matches have a countdown timer included and ongoing matches can be followed by live written commentary. Quite the treat!
"News" is what you would normally expect, news articles sorted by date. "History" deals with trivia. It merely states the biggest highlights relevant to the current and past days of the year. "Media" houses the latest photos from the field.
"Numbers", as the name entails deals with raw data. Here you can check player stats by selecting from the trending list or by searching. "Series Stats" sorts player achievements by "Most of" categories in a series (ex. most runs or most sixes). The "Records", "Rankings" and "Points Table" also deal with data, sorted in various ways and frankly, I believe it would be tremendously boring if I'd went my way and described them. I'm confident though that those of you who have the slightest interest in this article will explore them themselves, right?
The last element of the extensive side panel list is "Cricket on Twitter". This screen follows the Twitter accounts of players, experts, teams as well as the #cricket and #CLT20 hash-tags.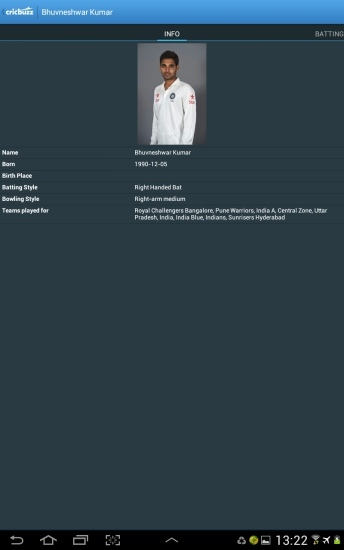 Features
Regularly updated news
Detailed Match reports
Live written commentary stream
Up to date team and player data
Player and team statistics, rankings and points tables

Twitter feeds

Following a written live stream is probably the best way to monitor match if you're not really interested in the spectacle itself. I find the Twitter feeds also very useful for centralizing relevant sources.
Pros
A plethora of data, information and live coverage, including some trivia on Cricket.
New content appears on a regular basis.
Cons
I can't find any real flaw with Cricbuzz so I'll be nitpicking.
News pictures are very small and almost pointless.
The text fonts do not scale with the screen size. This makes it harder to read on higher resolution displays.*
*Actually, there is a "zoom in" option when reading articles.
Conclusion
Cricbuzz is a very comprehensive source for any Cricket fan. The interface is simple and functional, the colours are non-invasive and the information is structured in an accessible manner. Too bad I'm not interested in cricket at all. Otherwise it would probably be on my phone right now.
---
Add a review
Tell us your experience with
Cricbuzz - Live Cricket Scores & News
100
RELATED PROGRAMS
Our Recommendations
---
---
---
---